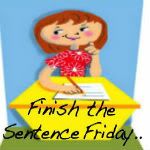 A funny thing happened on the way to...
A funny thing happened on the way to my "dream life." As a kid, I dreamed of being a teacher, wife and mother. As an adult, I accomplished all of that, but it wasn't quite as ideal as I imagined it would be.
I expected to graduate from college, start working, and continue to work while being a wife and mother. Instead, due to issues that my kids were having which I felt required my full attention, I quit teaching when my youngest was in kindergarten (when a lot of moms START working, or go back to work).
I expected to get married, have two children and stay married to that one man for the rest of my life. I was married at 24, had two children, and was divorced at 29. Then I married again at 31, had a second daughter, and divorced again at 40. Married again at 41, and FINALLY found the life I had always dreamed of having....raising my three kids, seeing them grow to amazing adults, and sharing my life with the most wonderful man I could ever hope to find.