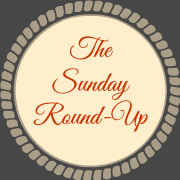 A brand new link up started today, where we share our past week's events.
Monday was a pretty busy day....started working on cleaning the house, for a couple of reasons. #1: My mother will be here this afternoon; and #2: I won't be able to do a lot of cleaning for the next couple of weeks, at least, while I recover from my surgery. Also went to weekly Bible study, which as always was social, as well as educational and thought-provoking.
Tuesday was more cleaning, and that was about it.
Wednesday was cleaning and a trip to the library to pick up some books that I had requested. At least I'll have plenty to read while I'm recuperating from surgery!
Thursday was a day of relaxing for the most part...spent most of it listening to an audiobook.
Friday it was back to cleaning, and then watched two movies with Barry that evening. Also had to call the hospital to find out what time to go in on Monday--8:30 am, so I don't have to get up ridiculously early, which is good.
Saturday was a totally fun day. Barry and I went to the Ohio Renaissance Festival (I didn't go in costume this year, as I was concerned it would be too painful on my scar). When we left there, we stopped at a little store in the area we like to visit every year, where I got apple cider and a caramel apple. Came home, spent some time with Amy, and then watched Doctor Who.
Sunday has been busy so far. I did two loads of laundry, after stripping and remaking the bed. Did some dishes, vacuumed the whole house, dusted the living room, straightened the dining room, took a shower, and have been watching NASCAR, blogging a bit, and playing Facebook games.