Are you the oldest, middle or only child? Talk about sibling
I am the oldest of two children, and I am six and a half years older than my brother, Mark. Here is a picture of us when I was 10 (nearly 11) and he was 4.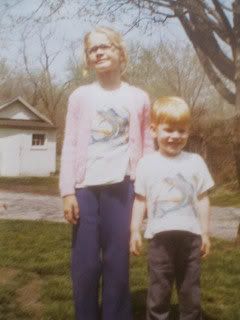 And this picture, with our mother and my nephew, was taken earlier this year.
Like me, my brother has a degree in education, although his is in secondary education while mine is in elementary education. He never held a teaching position, however. He went to work part-time for the local park district while he was in college, then moved to a full time position after graduation, and has been there ever since. He married my sister-in-law, Amy,fifteen years ago, and just a few years ago they adopted Bo from Ethiopia. We don't see each other as often as I would like, but we both have busy lives, 250 miles apart.