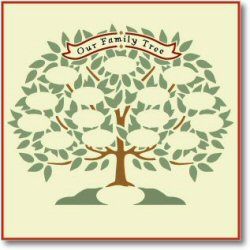 Have you traced your family tree?
I have been working on my family tree for several years, and have made fairly good progress on both my mother's and father's side. On my father's paternal side, I'm currently unable to go any further back than the parents of the first folks who came to America--I would probably have to work with someone in Germany to go back any further, which is something I will look into doing eventually, presuming I ever hit stopping points with the other three families.
I have discovered a few interesting relatives thanks to my research. Actresses Blythe Danner and Gwyneth Paltrow are distant cousins (we're all descended from brothers who came to America from Germany). I'm also descended from George Washington's brother, Lawrence, as well as Anne Boleyn's aunt, also named Anne Boleyn.
I haven't been spending as much time working on the family tree recently as I should, but will hopefully have the time to get back into it soon. Can't wait to see what else I find out!