Did you have a special pet when you were a child?
I had three very special pets during my childhood. The first was Pip, who was a miniature rat terrier. He was a tiny little thing, and therefore perfect for a toddler to chase, harass and cuddle. I remember being told one day that they had given Pip away, that he had gone to live on a farm--several years later, I learned that was their way of avoiding telling me that he had been hit by a car and killed. :(
The second pet of my childhood was Thomas J. Cat (the J. didn't stand for anything, it was just there). He was a black cat who followed me everywhere. He even went into my wading pool with me in the summers, swimming circles around me. In the summer between first and second grades, we moved to a new house. We kept Tom in the garage, trying to let him get used to his new environment. One day, he streaked out past my father, and we never saw him again.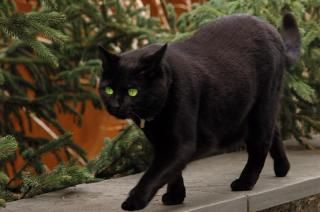 Shortly after that, we got Suzy, our collie/German shepherd mix. She was part of our family until the summer after my first year of college. At that point, she was arthritic, deaf, and nearly blind. One day she followed me across the road to check the mail, and when I went back across, I forgot that it was going to take Suzy longer than me to get across, and didn't realize the car which was far enough away for me to cross safely was NOT far enough for her. She was struck, and died instantly. :*(