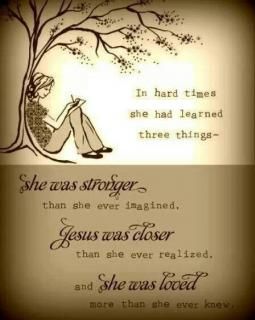 Day 7: A difficult time in your life
When I saw this prompt, I didn't even have to think about what I was going to write. The most difficult time in my life so far has to be pretty much all of last year. I was diagnosed with breast cancer on April 18, 2013. I was originally scheduled to have my right breast removed on May 10, 2013, but the MRI and CT scans i had done prior to that showed some enlarged lymph nodes in an area that would make them difficult to remove, so we had to start with chemotherapy instead, in hopes of shrinking the lymph nodes as well as the tumor. I went through eight rounds of chemo, which took four months to complete. I lost all my hair, including my eyelashes and eyebrows---the upside was that I didn't have to shave my legs the entire summer! LOL
The down side of the whole chemo experience was that the drugs they gave me for the first four treatments really did a number on my body. I was getting treatments every other week, and the week that I didn't have to go in for chemo, I spent two or three days in the hospital with some sort of undetermined infection.
About this time last summer (June 28th, 2013), I had the worst day of the whole experience....chemo, surgery or radiation. That morning, when I got out of bed and started for the bathroom, I wound up on the floor instead, thanks to some major lightheadedness. I managed to get into the bathroom and take my temperature, which was 101.7--because of the chemo compromising my immune system, I was supposed to go to the hospital if it got above 100.4. I decided to take some Tylenol first, and see if that would do any good.
Unfortunately, the lightheaded feeling continued to get worse instead of better, and any time I tried to stand up I was on the verge of unconsciousness. When it came time to get to the car and go to the ER, I was a real mess--Barry and Amy had to virtually carry me to the car, and we had to stop several times so I could sit, otherwise I would have passed out yet again. When we pulled out of the driveway that day, I honestly wasn't sure that I'd ever be coming home again....that's how bad I felt. :(
I was in the hospital for nearly the entire week, including July 4th and my birthday (the 5th). I had to have a blood transfusion, as my hemoglobin level was ridiculously low, which is what caused the lightheaded/dizzy feeling. And I also had to have IV antibiotics until my white blood cell count came up to normal.
This summer has been much more "normal" than last year, since I currently have "no evidence of disease" and just have to take a couple of pills every morning, most likely for the rest of my life. I'll always be extra vigilant for any signs the disease has returned, but I'm not going to let it steal my joy, ever.