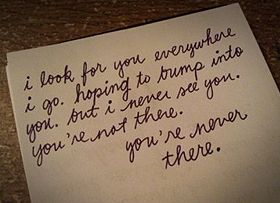 The actual theme for this week is ten things I love about my father. Considering my lack of relationship with my father over the last seventeen years, and because of it my total distaste for Father's Day, this is not an easy post for me to write---so I've decided to go at it from a place of sarcasm, and as a list of ten things he "taught" me.
1) He taught me that when you get to middle age, it's okay to ignore your wife and children, and to start spending time with a woman and her two children who all look remarkably like your wife and children looked ten years before.
2) He taught me that leaving your child sitting outside your apartment for an hour, in the middle of the night, while she hears you talking to a woman, and then trying to convince her that she didn't hear anything at all, is good parenting.
3) He taught me that it's okay to take your girlfriend and her children on a cross country trip to your brother's house, instead of taking your own children with you (one of whom had never met those family members) because, as you said to me "Your mother needs you to take care of her."
4) He taught me that it is fine not to tell your children when you are getting remarried, and to let them read about it in the newspaper instead.
5) He taught me that it is acceptable to choose your new wife over your children because she doesn't want them in "her" house.
6) He taught me that spouses are expendable and interchangeable at will.
7) He taught me that it is acceptable to miss important events in the lives of your children just because you might have to be in the same room as your former spouse.
8) He taught me that there is nothing wrong with keeping the death of your father from your child simply because she lives abroad and wouldn't be able to attend the funeral anyway.
9) He taught me how to disappear from your child's life without any explanation or excuse, and to leave them confused and hurting.
10) He taught me that a parent's love isn't always forever, and isn't always unconditional.