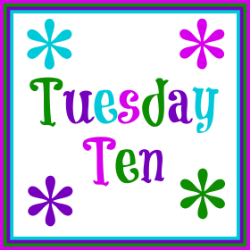 1) Stop trying to live your life the way others want you to....plan the future YOU want.
2) Don't get too serious about any boy until after you finish college.
3) Keep writing no matter how discouraged you get about it---one day you'll be glad you did.
4) Those kids who make fun of you? In the future, you won't remember their faces or names.
5) One day you will actually have a friendly, more loving relationship with your mother.
6) No one is perfect...learn from your mistakes and move on.
7) Work on your relationship with your younger brother. He's the only sibling you have, after all.
8) Enjoy every minute you have with your dad...in a few years you're going to miss those moments.
9) Always take LOTS of pictures...you'll want to have those memories to look back on when you get older.
10) Most importantly, live every day to the fullest!!!