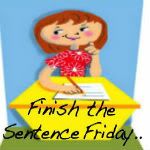 The one thing I'll never compromise on is...
I will never compromise on my faith, and the things I believe because of it. That is the main reason why I no longer feel comfortable participating in an organized religion. I can't sit in a church every week where I hear things that totally go against what I believe in my heart. I'll list some examples below....which may be controversial to some of you.
I can't listen to how "God has been taken out of the schools." God is omnipresent, which means He is EVERYWHERE. We are totally incapable of taken him out of any place, no matter how we may try. Anyone who wants to talk to him in a school can do so, as long as they do it silently.

I can't listen to how anyone who isn't a Christian is going to Hell. Jews, Muslims and Christians all believe in the same God, for starters. So wouldn't that suggest that He would welcome all of them into Heaven--and that He might present Himself in different ways to other people around the world?

I can't listen to how homosexuals are an abomination and doomed to eternal damnation. I believe that people are born that way--created by God--so why would He create them simply to doom them that way?

The one that really heats me up is hearing how American Christians are being persecuted. American Christians who use that word don't have the slightest idea what real persecution is, for the most part. Being jailed or killed for your faith is persecution...having someone say "Happy Holidays" instead of "Merry Christmas"is not.

One more....freedom of religion applies to any and all religions, not just Christianity. So if you want the right to set up a manger scene at Christmas in the town square, or display the Ten Commandments in the courthouse, don't get repulsed when Jews want to display a menorah, or Satanists want a statue of Satan with little children.
So, that's my soapbox rant for the day....hope you enjoyed it! :)