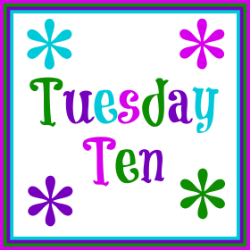 As you may have guessed, this week's topic is ten songs that are stuck in my head. I don't know if I can come up with ten, but I'll give it my best shot.
1) Let It Go--Ever since the movie came out, I feel like I've been hearing that song everywhere, all the time. I love it, don't get me wrong, but PLEASE make it stop!
2) Skinamarinkadink--Thanks to my four year old grandson, who sang this for his preschool graduation, and had to practice it several times on the phone with Nana (and who was surprised that Nana knew all the words and could sing it with him--thanks to the fact his mom, as well as his aunt and uncle, used to watch Sharon Lois and Bram's Elephant Show every day and that was their closing song!)
3) Happy, Pharrell Williams--it's just such a catchy little tune, and it makes me happy!!!
4) Something Bad--Miranda Lambert and Carrie Underwood's new duet. The whole song isn't stuck in my head, just the line "I got a real good feeling something bad's about to happen."
5) Better Dig Two, The Band Perry--I just love the energy and emotion.
6) Because You Love Me, JoDee Messina---because it's OUR song, and because Saturday was our 11th anniversary.
7) Will The Circle Be Unbroken, Nitty Gritty Dirt Band or The Carter Family--This one has always made me think of my extended family on my mother's side, and brings me great comfort when I'm sad.
And, just as I feared, I'm coming up short this week. So let's just say that seven is the new ten, shall we? LOL
Next week's ten will be things that are always in my pantry/fridge....that should be a breeze!