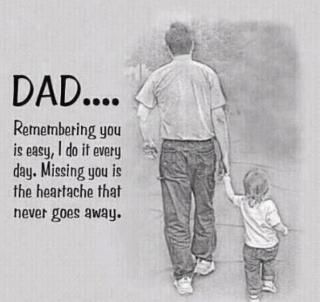 Dear Dad,
This is a letter to tell you all the things I think of when I think of you. I wish that we still had the kind of relationship we had when I was younger, but at this point I can't see how that will ever be possible again.
I am grateful that you were there for me during my childhood. I loved the years of being "Daddy's little girl," feeling cherished, loved and adored. I loved the time I got to spend alone with you, whether it was going to the library, working in the garden, building something together, or any of the other things we did.
I am grateful that you were involved with the band boosters, and that you were there to see me march at every football game and contest. Seeing your face when we came off the field after a contest performance, knowing that you were proud of me, always made me feel that all the time and effort had been worth it.
I was heartbroken in my junior year when I discovered that you were having an affair, but then I hid that pain behind anger and confronted you, telling you that if you didn't love us enough to be there, you should just move out. When you actually did move out a few weeks later, my heart broke again.
After you were divorced, I was angry to have to read the newspaper to find out you were married again, to someone I had never met. And finding out that she didn't want me or my brother to come to "her" house, which meant I almost never got to see you over the next several years, added to that anger.
I'm grateful that my children had a few years to have you in their lives, and sad that all came to such an abrupt end so many years ago. You, and they, have missed out on the chance to make so many wonderful memories together.
I wish that I could understand why you chose to shut us all out of your lives approximately 17 years ago and have never looked back. I wish that you hadn't chosen your third wife and her family over your biological children,grandchildren, and a great-grandchild you have never met. Most of all, I wish that you would just talk to me and explain what, if anything, I did to cause you to shut us out.
No matter what, I still love you and I always will.
Your daughter,
Teresa