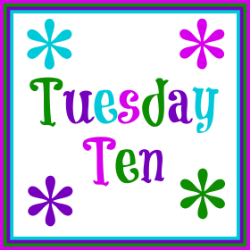 This week's Tuesday Ten is a list of ten things I love about my mother.
1) I love that she chose to give up her career in cosmetology to stay home with me after my trusted babysitter left us to care for her grandchild.
2) I love that she could always be counted on to attend every party or performance I had in elementary school, and every concert (band and choir) in high school, as well as being a chaperon for every band trip.
3) I love that she is a wonderful seamstress and was able to make clothes for her very short, very skinny daughter so that I didn't have to wear "little girl" clothes in junior high and high school.
4) I love that she graduated from college at age 62 with a degree in early childhood education.
5) I love that she is a woman of great faith who passed her beliefs on to her children.
6) I love that she showed me how to be strong and carry on even after your marriage falls apart.
7) I love that she is such a good cook.
8) I love that she isn't afraid to speak her mind.
9) I love that she taught me how important family can be to you.
10) I love that she still calls me her "baby girl."