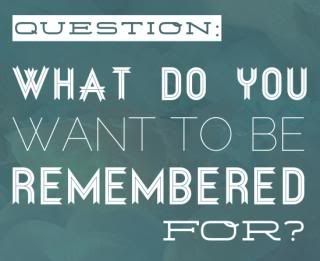 List ten things for which you would like to be remembered.
1) Being kind to everyone.
2) Being a good mother and grandmother.
3) Being open-minded.
4) Being a woman of faith.
5) Being a good wife.
6) Being "me," and not who others expected me to be.
7) Being a poet and writer.
8) Being strong and capable.
9) Being a lifelong learner.
10) Being someone who loved life and lived every moment of it.