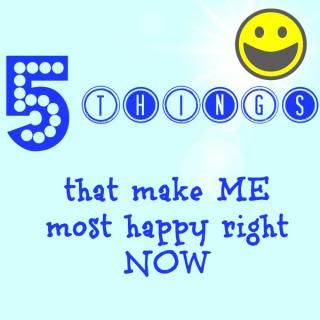 1)
My family:
My husband, my kids, my mother and brother---and my large extended family. In spite of busy schedules, health issues, and whatever else may be going on at any given time, we're always there for each other when push comes to shove. They're always the ones I can count on to lift my spirits--especially my husband.
2)
Sunny days:
My mood is very much influenced by the weather. Dark gloomy days bring on bouts of depression, while warm sunny days bring happiness and contentment. If it's warm enough, I love to sit on the front porch in my glider with a book, soaking up some much needed Vitamin D.
3)
My health:
I'm feeling really good this spring, and am able to concentrate on life again, rather than medical treatments, hospital stays, etc.
4)
Books/Reading:
I've read 30 books already this year, and have a long list of others I'm planning to read. I love to immerse myself into a story, whether real or fictional.
5)
My many blessings:
I am truly blessed, in more ways than I could ever list here. Counting them off to myself is always a sure fire way to bring a smile to my face, and to remind me that even a bad day could be so much worse.