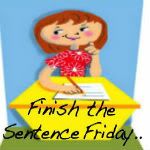 My favorite decade was...
Of all the decades in which I have lived (60's through 10's), my favorite so far has been the 70's. There are SO many reasons why, that I'm going to break it down into categories.
Books
Some great books that I read in the seventies include:
Jonathan Livingston Seagull, Richard Bach (I also had a board game based on this book!)
Sounder, William H. Armstrong
Mrs. Frisby and the Rats of NIMH, Robert C. O'Brien
Bridge To Terabithia, Katherine Paterson
Fads
Mood rings
Rubik's cube
Pet rocks
Smiley face stickers
And let's not forget streaking! (no picture included....LOL)
Fashion
Some of the fashion trends I wore in the seventies:
Bellbottom jeans
Hot pants (and I also had the white go-go boots!)
Platform shoes
Earth shoes
Clogs
Peasant blouses
Maxi dresses
Music
Aerosmith
The BeeGees
David Bowie
Eagles
Electric Light Orchestra
Fleetwood Mac
Billy Joel
Elton John
Bob Seeger
Bruce Springsteen
Rod Stewart
Three Dog Night
The Carpenters
And then there were the country artists:
George Jones
Tammy Wynette
Charlie Rich
Bobby Bare
Tom T. Hall
Johnny Cash
Lynn Anderson
Willy Nelson
Kris Kristofferson
Waylon Jennings
Ronnie Milsap
Charley Pride
So,there you go.....a crash course in why I loved the 70's!