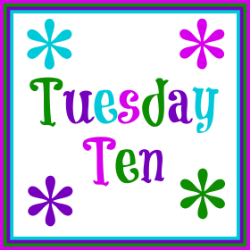 Turn your purse upside down and tell us ten things that fall out.
I don't carry a lot of things in my purse these days (not like when I used to carry a HUGE one that had everything but the kitchen sink in it!), but there are some things that are pretty much staples.
1) Wallet--
with a small amount of cash, debit card, credit cards, pictures, ID
2) Notebook--
because I never know when the muse will hit, or when I need to write down a book title.
3) Keys--
actually a BUNCH of keychains with a single house key on it.
4) Phone--
on those occasions when I actually remember to pick it up before I walk out of the house.
5) Tissues--
because they're more sanitary than the handkerchief my grandmother used to tell me a lady should always carry with her.
6) Eyeglass cleaner--
you never know when you're going to need it, and I can't stand when my glasses get really dirty.
7) Hair brush--
my one vanity item. As long as the hair looks good, then I feel good.
8) Candy--
usually peppermints, and sometimes M&Ms.
9) Business cards--
those of other people,which I always pick up at festivals and other places, as well as some of my own to hand out when needed.
10) Camera--
Not always with me, but it's in there right now, as I took it to my hometown the end of last week....although I never once used it during those two days.
So.....what's in YOUR purse? Write a post and link up to the blog hop (click on the pic above), or just share in the comments.