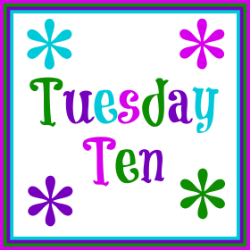 Research the year you were born. What were the top ten headlines,movies or songs from that year?
Since I've always been an overachiever, I decided to list all three. :)
Headlines from 1961
1) United States breaks diplomatic relations with Cuba.
2) 1,200 US-sponsored anti-Castro exiles invade Cuba at the Bay of Pigs; the attackers are all killed or captured by Cuban forces.
3) East Germany erects the Berlin Wall between East and West Berlin to halt flood of refugees.
4) USSR detonates 50 megaton hydrogen bomb in the largest man-made explosion in history.
5) There are 2000 US military advisers in South Vietnam.
6) Moscow announces putting first man in orbit around the Earth, Maj. Yuri A. Gagarin
7) First US astronaut, Navy Commander Alan B. Shepard, Jr., rockets 116.5 miles up
8) President Kennedy creates the Peace Corps to improve education, agriculture, and living standards in Latin America, Asia and Africa.
9) FCC Chairman Newton Minow claims television is a "vast wasteland."
10) Ray Kroc buys out the McDonald brothers and takes control of the hamburger chain; opens 200 McDonalds restaurants in California.
Top Ten Songs from 1961
1) Tossin' and Turnin', Bobby Lewis (which was also the #1 song on the day I was born)
2) I Fall To Pieces, Patsy Cline
3) Michael, Highwaymen
4) Cryin', Roy Orbison
5) Runaway, Del Shannon
6) My True Story, Jive Five
7) Pony Time, Chubby Checker
8) Wheels, String-a-longs
9) Raindrops, Dee Clark
10) Wooden Heart, Joe Dowell
Top Ten Movies from 1961
1) West Side Story
2) The Hustler
3) Breakfast At Tiffany's
4) Judgement At Nuremberg
5) Splendor In The Grass
6) One-Eyed Jacks
7) A Raisin In The Sun
8) The Guns Of Navarone
9) The Misfits
10) 101 Dalmations