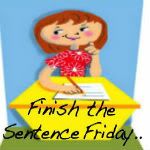 What I really want to scream out loud is...
WARNING: This post may offend some readers.
What I really want to scream out loud is "Get over it!" There are several things which make me feel that way, but what I'm going to concentrate on today is the whole idea that God and prayer have been taken out of schools, and Christ is being taken out of Christmas.
Just because there can not be teacher led prayers in school, and just because schools try to stay religion neutral, doesn't mean that a child can't say a silent prayer over their lunch, or in their classroom. As long as they aren't trying to force others to join them, or making it into a major production, no one else is even going to notice. As far as I'm concerned, prayer should always be a private conversation you're having with God, not something to draw attention to yourself.
And the whole Christmas uproar has totally gotten out of hand, in my opinion. It started with the Merry Christmas/Happy Holidays debate. There is more than one holiday celebrated in December, so if people who work with the public want to say Happy Holidays to include anyone and everyone who may be celebrating, there's nothing wrong with that. If you celebrate Christmas, feel free to respond with "Merry Christmas"....if you celebrate Hanukkah, say "Happy Hanukkah"....if you celebrate Yule, say "Blessed Yule"....if you celebrate something else, use whatever greeting is appropriate for you.
Other people may use the terms "holiday tree," "holiday card," "holiday song," "holiday party, " and wish us "Happy Holidays." That is their prerogative. For those of us who are Christians, and who celebrate this season as the birth of our Lord, there will continue to be Christmas trees, Christmas cards, Christmas songs, and we can continue to wish people "Merry Christmas." We can also continue to have Nativity scenes displayed in our homes and yards. No one can take that away from us without our consent. At the same time, we can't take away the rights of others to celebrate the season in a way that is meaningful to them.
This past year I even read some people on Facebook complaining that non-Christians shouldn't be "allowed" to celebrate Christmas as it takes away from the true meaning. I'm sorry, but if the way other people are celebrating a holiday takes away from YOUR celebration and what it means to you, then perhaps THEY aren't the one with the problem. Christmas,for me, is about love and giving to others with no thought of getting something in return. So show some love to those who celebrate differently from you....give them the gift of acceptance.
Our country was founded to provide religious freedom for all its citizens. That means we should be welcoming to those of beliefs which differ from ours, not resentful of them or accusing them of trying to stop us from having our beliefs.
My major point in all these situations is simple....for those of us who believe in God, and believe that He is everywhere, isn't it a bit ridiculous to presume that human beings can keep Him out of schools or anywhere else? And isn't it even MORE ridiculous to presume that those same human beings can keep Him out of a day when we celebrate His birth? As long as we don't forget Him, He'll be with us every minute of every day.