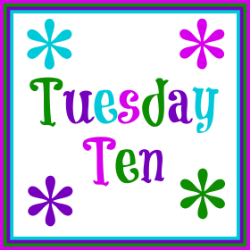 This was a tough one....trying to narrow down my list to only ten blogs that I enjoy reading. But, here we go: ten blogs, with a brief description of each one.
1)
thriftnerd
--written by my dear friend, Erin. She shares her amazing thrift finds, advice on becoming minimalist, and how to outfit a gorgeous teenage daughter fashionably at ridiculously low prices! She's also contemplating writing a book on thrifting a wardrobe through high school...so go read and support her.
2)
Raising My Rainbow
--written by Lori Duron, author of the book by the same name. This is the journey of the Duron family as they raise their two sons, the youngest of whom is gender-nonconforming. I love read her stories of the fun times they have, and my heart aches when I read the stories of discrimination/intolerance/ignorance.
3)
The Golden Spoons
--written by a new blog friend, Lisa. She has introduced me to a couple of fun blog hops, as well as providing me with smiles as I read some of her posts. Like me, she shares the joys, frustrations, etc. of motherhood.
4)
"I took the road less traveled by, and that has made all of the difference..."
--I found this one through my church. Holly, the blogger, is originally from Kansas, and is currently in Tanzania, working at Angel House orphanage and school. Our church here in Ohio is one of many which helps to support Angel House, and Holly's blog is a way of keeping up with what goes on there on a regular basis.
5)
A Beautiful Exchange
--Hayley is a 20 yr old first time mom, and writes about her life as wife, mom, reader, crafter, etc. Some of her posts take me back to when I was experiencing that stage of life.
6)
Anona-mom
--Laine writes about her family life, sometimes gets on her soapbox, and is always inspirational.
7)
Can I Get Another Bottle Of Whine With My Morning Quiet Time?
--Kate has a great sense of humor that shines through in her writing. I can always count on her to put a smile on my face.
8)
It's A Bold Life
--Kelly is a mom of three, one of whom is gender non-conforming. Like Lori, she is awesome at dealing with the ups and downs, and I'm impressed with her awesomeness.
9)
StageIV Her 2 neu breast cancer
--I found Lisa's blog while I was in treatment, and have been following her story ever since, with smiles and tears. Every post is a reminder that life goes on!
10)
Mommaste
--Love her Monday Mantras and Thankful Heart Thursdays!!!
Hope you'll stop by and visit all these ladies, and tell them I sent you.....have a great Tuesday!!!