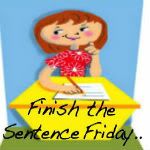 The most unexpected part of being a grownup is...
Who would have thought, back when I couldn't wait to turn 21, that being a grown up would be so tough? And who would have expected that the toughest part for me was being alone? I mean, I've always been an introvert, and enjoyed my alone time, so wouldn't you think that having more of that, once I moved out on my own, would have been a good thing?
That's not what happened, though. I discovered very quickly, after my college graduation and move into my own apartment, that there is a huge difference between being alone and being lonely. Living alone, in a town where I really didn't know anyone yet, was a very lonely situation. I'd come home from a day spent with five year olds,ready for some adult conversation, and spend the afternoon and evening on my own, watching a lot of television.
Did I mention that I don't make friends easily? I tend to wait for people to approach me, rather than being the one to make the first move. That just added to the loneliness and isolation I was feeling. I couldn't wait for Friday afternoons, when I made the ninety minute drive home to be with my family...and began to dread Sunday afternoons when I headed back "home" to that empty apartment.
The situation got so difficult for me that I wound up leaving my full time position there, moving back to my hometown to work as a substitute teacher for a year before getting married and having my son. Two years later we moved to Germany with the Air Force, and I went through the loneliness and isolation feeling again, along with a difficult pregnancy, as my husband was away for a week or two at a time, almost every month. I honestly believe those 2 1/2 yrs were a contributing factor to the break up of our marriage.
Since then, I have made an effort not to let myself get into that situation again. I have a small core group of friends, people I stay in contact with on a weekly basis, as well as family members I talk to several times a week, and internet friends I talk to almost every day. If I would have had access to the internet back then, I am sure it would have made my life a little better....first world problems of a girl who graduated college in 1980, I suppose. :)