Fitting post title for New Year's Eve, don't you think? And I have several endings to write about today, not just the end of 2013....so let's get started.
The End Of A Life
November 7th I found out that my first husband, Douglas Rankin, the father of my two oldest children, had passed away in his sleep. He and I had been divorced since 1991, and had really not had much contact since our youngest turned 18 in 2008. The last time I saw him was in April, 2012, when he came to drop off Samantha and Micheal to spend the weekend here with us. During that visit, I was able to get this shot of Micheal and his PopPop:
Doug's passing also brought about another end....the end of my on again/off again friendship with his "wife," Mary. They had been separated for almost four years, and she is living with another man, but as soon as Doug died, she jumped in to take charge of things, and did several things that upset my children--including taking things of their father's which should have gone to them, some of which have resulted in legal steps having to be taken. Even though she had once been my best friend, and I was the one who played matchmaker for them, messing with my kids at such an emotional time for them was the last straw for me, and I have stopped all contact with her after that week. I have a feeling my life will have less stress in it for having made that choice.
The End Of A Journey
As of December 24th, I am DONE with my radiation treatments (Merry Christmas to me!!). Hopefully that will be the end of treatments altogether, but I haven't had any testing yet to see where we stand, so at this point it's just the end for now. I see my oncologist again on January 14th, so I presume at that point we'll schedule a PET scan or something, and once we get those results we'll know how to proceed. The next big thing after that will be healing and getting my body ready to deal with reconstruction. Right now the right side of my chest looks like I got a REALLY bad sunburn, and is starting to peel and itch a lot....not much fun, let me tell you! And I'm still suffering the side effect of having little to no energy....every time I do something around the house, I have to go sit down for a while and rest, plus I'm still taking two hour naps every afternoon. I will be glad when that passes and I can get back to a more "normal" routine.
I do have some hair on my head again, though...enough that I don't even feel like I have to wear a scarf/hat when I go out in public. You can see from this pic that it's still short, but it's growing. It's VERY soft, and it has a little bit of a wave to it so far, too. For those who aren't aware, the other folks in the picture are my three wonderful children, Samantha, Amy and Brian....they gave me what I asked for as my Christmas present this year, which was to have all of them home. :)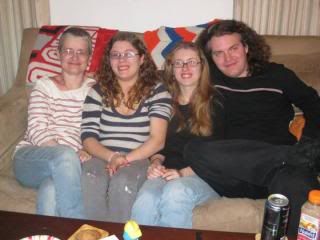 The End Of A Year
This has been a tough year, and I can't say that I'll be sorry to see it go. It's had some good moments, but way too many unpleasant ones for my liking. One thing about my illness, though, is that it has given me the opportunity to see who my true friends are...and who they aren't. So, to all of you who have continued to be there for me this year, in large or small ways, THANK YOU....you have no idea how much you've meant to me on some of my roughest days. And to anyone who may be reading this who has no longer been there....it's okay, I forgive you---but just know that I'll no longer be calling, emailing, etc., trying to chase after a friendship that has obviously meant more to me than to you. Life goes on!!