I decided to get a little creative with today's post. I thought of words like quiet, quirky, quarrelsome---but then decided quadruped was the perfect word.
For those unaware, a quadruped is an animal with four feet. Our favorite quadruped in this house is pictured below: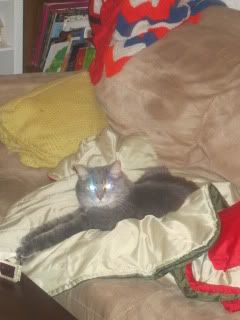 This is Gandalf.! He's our grey, tiger striped cat who is about 4 yrs old. Like his human momma, he's a bit skittish when he first meets people, but once he gets to know you, he's very friendly and sweet. He is, however, the only cat I've ever encountered who licks curtains!!! He will sit on the back of the sofa, grab a curtain with one front paw to hold it steady, and start licking it. He also will stand up on his back legs and try to turn the doorknob on the back door if he wants to go outside....a strange cat, indeed, but we love him!!