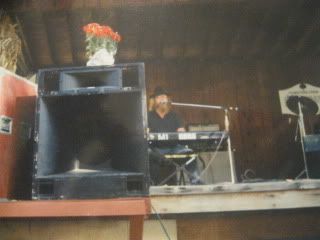 George the way I'll always remember him the best...behind his keyboard. :)
Name:
George Amyl Haffelt, Jr.
Dates:
Birth date: November 06, 1957
Death date: February 10, 2012
Obituary:
George A. Haffelt, Jr., 54, of Middletown, Ohio passed away on Friday, February 10, 2012 at the Butler-Warren Hospice Care Center in Franklin, Ohio. George was born on November 6, 1957 in Columbus, Ohio to the late George Amyl Haffelt, Sr., and Katherine Marie "Kay" Fulcher Haffelt who surv
ives. George had been a florist working with his father at Amyl's Floral Fashions and also had worked at Shannon's Floral in Fairborn, Ohio. He was a 1975 Gallia Academy High School Graduate where he played in the band and also graduated from the University of Rio Grande.

He is survived by his children Amylia [Amy] Haffelt, Samantha (Andy) Swan both of Fairborn, Ohio, Brian Rankin of Monroe, Ohio and Grace Ellis of Niceville,FL, 4 grandchildren, his mother Kay Haffelt of Gallipolis, sister Pam (Jacky) Seal of Mt. Airy, NC, nieces Whitney Brooke Large of Greenville, NC, and nephew Justin (Leslie) Large of Oakland, TN, and a great niece Olivia Large. His companion, Linda Begley of Middletown, Ohio also survives.

Friends may call on Monday, February 13, 2012 from noon until 1 pm, at George's request his burial will be private in Mound Hill Cemetery. In lieu of flowers contributions can be made to Willis Funeral Home to help with funeral expenses.